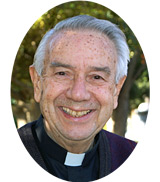 If somebody asks you, what experiences do you have while attending Mass, what would your answer be? Please, before, continuing reading, try to answer this question.
I guess there can be multiple replies. You could answer, the satisfaction of having fulfilled a duty, or the relief of having unloaded an unpleasant burden of a strict obligation, or, just pure and simple boredom, or, perhaps, joy and peace of mind, etc.
I would like to consider here, without any particular order, some deep and meaningful experiences that quite a few people have when they attend Mass.
1. Being sure that I am not alone in this world, especially when I am going through painful experiences, like depressing worries, anguish, physical and mental suffering etc. or just the opposite, when I feel indescribable happiness. God is with me, Jesus is in my heart, I am one of a group of people who have the same beliefs and hopes and who, perhaps with some exceptions, sincerely care for one another.

2. The experience of praying and having been listened to.

3. The experience of having been purified, which, of course, includes, on one side, acknowledging being a sinner, that is to say, feeling impure, selfish, too imperfect, and on the other side, the healthy desire of being more honest and sincere, more true to the ideals one has and often preaches to others and faithful also to the promises made to God, to others and to oneself.

4. The experience of a deep desire of harmony between one's ideals and the reality of one's life.

5. The experience of being inexplicably pacified deep down in one's own heart, which is usually divided between one's best dreams and worst inclinations.

6. The experience of being saved now and in the long future, by Jesus' love and generosity.

7. The experience of being sanctified by God's grace of silent humility and endurance and the realization that a life of trying to sacrifice oneself for others is worth living.

8. The comforting experience of being honestly loved by the community or somebody in the community.

9. Just being deeply happy to praise and thank God, who deserves everything for his love, power and grandeur.

10. Similarly feeling a desire to praise God and celebrate being alive, willing to do great things, including offering one's own pains and sorrows, not only for oneself but for others, especially those in greater need.

11. The marvelous and unshakeable experience of being tenderly loved by God.

I write this on the feast of Health and Sports Day(体育の日), commemorating the Tokyo Olympics of 1964.This was the year I was ordained a Priest, on March 18 and said my First Mass the following day. My father and mother were present at this ceremony. They were the most marvelous experiences in my life, and they continue to be so. Without them I could not have written this article.

Jaime F. Castañeda